Reimagining the world's food supply chain
Lineage Logistics
Lineage is one of the world's largest temperature-controlled logistics companies. With a stated mission to "feed the world," the company serves as a mission-critical component of the global food supply chain and is focused on preserving, protecting, and optimizing the distribution of food around the world.
Investment overview
At Stonepeak, we tend to spend our time seeking out less-crowded niches where we believe macro trends are favorable and underlying fundamentals are strong. Lineage Logistics, the world's largest temperature-controlled logistics company, is a great example. While mostly overlooked by institutional capital at the time of our initial investment, cold storage has represented a meaningful opportunity for Stonepeak to be an early mover in the space and invest in an essential and stable part of the logistics sector at an attractive valuation.
Lineage's performance is particularly tied to U.S. food consumption, which has steadily grown and continues to accelerate amid shifting consumer preferences toward fresher, faster food. Additionally, we believe Lineage's tech-enabled sustainability focus on innovating to drive down energy costs and food waste gives it a clear competitive advantage. Our transportation and logistics team sourced this investment after extensive thematic research into the cold storage sector and a focused effort to develop relationships with key players that would ultimately lead us to the best possible partner in Lineage.
Initial investment

May 2018

Headquarters

Novi, Michigan

Sector

Transport & Logistics

Website
430+ warehouses in 20 countries, including 37 U.S. states
~30% of U.S. food supply handled annually
2.8bn+ cubic feet of storage
Lineage Logistics is one of the largest temperature-controlled warehousing and logistics companies and one of the largest automated temperature-controlled companies globally (by cubic feet and locations). Lineage operates over 430 warehouses totaling over 2.8bn cubic feet of storage capacity across 20 countries and 37 states.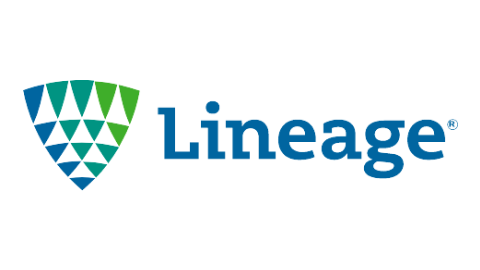 Investing behind the cold chain
Nearly 70% of Lineage's asset base is located in primary distribution markets and dense population centers, with access to some of the busiest ports in the U.S. through over 200 port warehouses. The expansive nature of Lineage's footprint, coupled with its diverse suite of offered services, creates a unified system in which customers can store, monitor, and transport their product seamlessly. Lineage therefore acts as a "one-stop shop" for global brands and producers who require access to major markets, differentiating it from its competitors.
Lineage is an industry leading operator that has demonstrated increased productivity and profitability through automation, investment in employee training, big data analytics, direct integration of customers transport logistics, and advanced customer profitability analysis and revenue management.
Lineage has been in our view the most successful strategic consolidator in a highly fragmented industry, having grown its warehouse capacity at a +50% CAGR since formation to capture estimated global market share of over 10%. Additionally, Lineage has developed one of the most sophisticated data driven operating platforms in the industry and is well positioned to benefit from the ongoing trend toward increasingly automated operations.
Cold storage is a critical component of the global food supply-chain and transportation network, which exhibits stable long-term demand growth, significant barriers to entry, and durable through-cycle performance.
Aggregate total demand for cold storage facilities has exhibited stable growth over time and resilience during economic downturns.
High customer switching costs associated with regulatory scrutiny and logistics integration support barriers to entry.
Stonepeak believes Lineage has built the best-suited aggregator in a defensive sector characterized by high returns on capital, a vast M&A opportunity, and significant potential for operational improvement.
We also believe the company has developed the most sophisticated data-driven operating platform in the industry and is well positioned to benefit from the ongoing trend towards increasingly automated and sophisticated operations.
Lineage's portfolio is diversified across geography, customers, and facility type.
Working to solve sector challenges
Lineage's ongoing innovation and sustainability program — named "flywheeling" — proactively manages energy consumption using proprietary machine-learning and scheduling optimization algorithms. This program drove a 23% reduction in energy intensity between 2017 and 2020 (resulting in an energy offset equivalent of 55,000 households of consumption).
Having joined the Department of Energy's (DoE) Better Plants Initiative in 2015 with the goal of reducing energy intensity by 25% over a 10-year period, Lineage achieved its goal in 2017 and, for the third year running, Lineage was in 2021 named a DoE Better Plants Award recipient for outstanding energy innovations with respect to its blast-freezing design processes, which cut freeze times in half.
Separate pilot programs seeking to increase the efficiency of vapor-compression refrigeration systems — which account for ~70% of Lineage's power consumption — are in progress.
Energy-efficient doors include remote sensors that alert the team when a freezer is left open. An updated real-time energy management system enhances tracking and increases energy efficiency. Various renewable energy adoption projects are under way at Lineage, including the implementation of solar projects across eight key facilities.
"From the start, we have focused on reimagining the world's food supply chain by bringing best-in-class technologies to vital food infrastructure. Stonepeak are sophisticated capital partners that share our positive long-term view of the industry and Lineage, and their investment has provided us with even more opportunities to accelerate our future innovation and growth."
"The impact that we've seen already is remarkable, and we are excited by the future opportunities to expand and continue to advance the industry. Working with our partners at Stonepeak we continue to build one of the fastest-growing temperature-controlled supply chain companies and the industry's foremost innovator."
"Stonepeak has been following the cold storage industry very closely for many years, and we've admired the tremendous success Lineage has had in such a short period of time, growing from a single warehouse in 2008 to more than 430 locations across the world. We are excited to be actively partnering on this new phase of growth and capital deployment into new facilities."
See "Terms of Use & Disclaimers" for important information about the statements made above by Stonepeak portfolio company executives and/or operating partners, including in relation to Stonepeak's relationship with such individuals. While some of these individuals may be Stonepeak fund investors, the statements made herein are meant to reflect their experiences as Stonepeak portfolio company executives and/or operating partners and not their experiences as Stonepeak fund investors (if applicable). Certain of the portfolio companies discussed are controlled by Stonepeak as of the dates these statements were made.